About Far Below
This is one of those songs that came on me like I was having an out of body experience - in subject's body. Very emotional. Really scary. I remember crying and falling to the floor with a yellow pad and pencil and wrote the song word for word as I saw it play out in front of me.- it really felt like I was there.
A couple of months later I was working on a first draft in the editing room with the headphones on at the new boffostudio.com about 3:00 am - I thought how cool it would be to have bag pipes playing during the bridge, but I was really tired. I hit the wall and was going for some need rack time. When I got up to the bed room I could hear music, so I marched back down stairs thinking I had left something on. All the gear was off in editing and in the control room. So I went back up to brush my teeth - and there it was again - music playing. I thought maybe the dude next door left his car radio on - checked - nothing. Then I opened the bathroom window - poked my head out - it was pouring buckets - and out side I could clearly hear music coming from the out there in the 32 acre park which sits next to the studio... So I got dressed again, got the camera and headed outtside.
I put the camcorder in a plastic bag, good thing too because I slipped and slid down the hill . Earlier that day the park was flooded. As I got up I looked down the length and could see 3 figures standing in the rain around the park's only picnic table - one of them was playing the bag pipes! Yup - pouring rain - 3:15 AM. I could not believe my eyes but it was real. I got right over there and a very pretty woman with strawberry blonde hair addressed me first saying "Hi Rick". I had never seen her before, I wondered who she was. Along side her was a guy with a great dread thing going on - he had a trumpet, but was not playing. The bag piper was playing Amazing Grace - and without hesitation I asked if I could record him playing for the song. He said "yes." Sometimes Devine massagers are in the park at 3:20 AM you've just got to put your paints on to go see and hear it.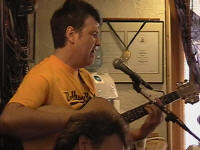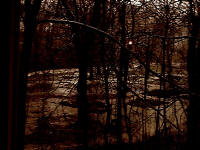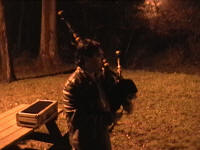 Title: Far Below
Words & Music by: Rick Denzien

He says pass me that cigarette
This picture is worn – but they sure look cute
Pretty little ones, pretty wife - what can I tell them?
Wrap 'em all together in a single chute
What is he saying? It's cold inside
Staring past the ribs of this grey - dead bird
Why is he praying? Why? – what can he tell us?
See the blast - feel the shock - this is so absurd

And the voices drown in the engines roar

When I finally fall – I will see it all – so far below
When I finally fall – I could loose it all – so far below

Little window looking out like a TV
They're playing in the yard
They'll never know where, where, where I did go
Cause getting back there is pretty hard

Is there peace in this time of war?
This kind of war?

When I finally fall – I will see it all – so far below
When I finally fall – I could loose it all – so far

Latch the broken ring to a silver cord – and the door will open wide
Light is green – black smoke – hanging
But I never learned to fly
I will die thinking of you – I'm thinking of you yeah Ahhhh

Pretty little ones, pretty wife - what will I tell them? x 4
When I finally fall – I will see it all
When I finally fall – I will see it all
Oh……

Ó MMIX to date Rick Denzien / Slot 1 Entertainment, Inc., (ASCAP) all rights reserved
The Players:

Drums: Anton Fig
Bass: Kjell Benner
Electric Guitar: Alan James
Acoustic Guitar: Rick Denzien
Lead Vocals: Rick Denzien
B3 Organ: Howie Q. Gordon III
Backing Vocals: Debra Lee -

Lyra Project


Bag Pipes:

Oisin Hayes
Arranged, Recorded, Mixed: Rick Denzien & David Ivory
Produced by: Rick Denzien
Studio:

www.BoffoStudio.com
Label: Slot-1